Wigglesworth Devotional for October 17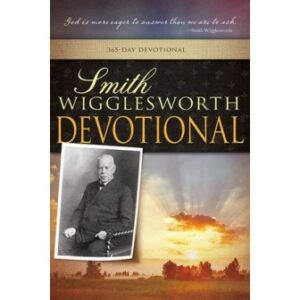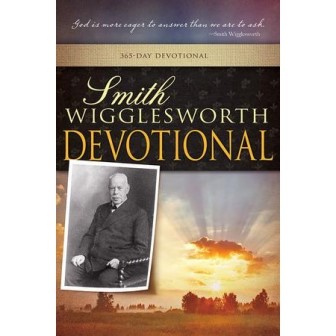 October 17
Faithful Servants
His lord said to him, "Well done, good and faithful servant; you were faithful over a few things, I will make you ruler over many things. Enter into the joy of your lord."
—Matthew 25:21
Scripture reading: Matthew 25:14-30
Christ, who is the express image of God (Heb. 1:3), has come to our human weaknesses in order to change them and us into a divine likeness so that, by the power of His might, we may not only overcome but also rejoice in the fact that we are more than overcomers. God wants you to be "more than conquerors" (Rom. 8:37). The baptism of the Spirit has come for nothing less than to possess the whole of our lives. It sets up Jesus as King, and nothing can stand in His holy presence when He is made King. Everything will wither before Him. The inheritance of the Spirit is given to every man "for the profit of all" (1 Cor. 12:7). Praise the Lord! In the order of the Holy Spirit, we have to "come short in no gift" (1 Cor. 1:7).
This same Jesus has come for one purpose: that He might be made so manifest in us that the world will see Him. We must be burning and shining lights to reflect such a holy Jesus. We cannot do it with cold, indifferent experiences, and we never will. My dear wife used to say to our daughter, "Alice, what kind of a meeting have you had?" Alice would say, "Ask Father. He always has a good time!" His servants are to be flames. Jesus is life, and the Holy Spirit is the breath. He breathes through us the life of the Son of God, and we give it to others, and it gives life everywhere.
You should have been with me in Ceylon! I was having meetings in a Wesleyan chapel. The people there said, "You know, four days are not much to give us." "No," I said, "but it is a good share." They said, "What are we going to do? We are not touching the people here at all." I said, "Can you have a meeting early in the morning, at eight o'clock?" They said they would, so I said, "We will tell all the mothers who want their babies to be healed and all the old people over seventy to come. Then after that, I will hope to give an address to the people to make them ready for the Holy Spirit.
Oh, it would have done you all good to see four hundred mothers there with their babies! It was fine! And then to see one hundred and fifty old black people, with their white hair, coming to be healed. I believe that you need to have something more than smoke to touch people; you need to be a burning light for that. His ministers must be flames of fire. There were thousands gathered outside the chapel to hear the Word of God. There were about three thousand people crying for mercy at the same time. I tell you, it was a sight.
After that, attendance at the meetings rose to such an extent that every night, five to six thousand people gathered there after I had preached in a temperature of 110 degrees. Then I had to minister to these people. But I tell you, a flame of fire can do anything. Things change in the fire. This is Pentecost. But what moved me more than anything else was this (and I say this carefully and with a broken spirit because I would not like to mislead anybody): there were hundreds who tried to touch me because they were so impressed with the power of God that was present. And they testified everywhere that with a touch, they were healed. It was not the power of Wigglesworth. It was because they had the same faith that was with those at Jerusalem who believed that Peter's shadow would heal them. (See Acts 5:14–15.)
What do you want? Is anything too hard for God? God can meet you now. God sees inwardly. He knows all about you. Nothing is hidden from Him, and He can satisfy the soul and give you a spring of eternal blessing that will carry you right through.
Thought for today: You can receive something in three minutes that you can carry with you into glory.
Excerpted from Smith Wigglesworth Devotional by Smith Wigglesworth, © 1999 by Whitaker House. Published by Whitaker House, New Kensington, PA. Used with permission. All rights reserved. www.whitakerhouse.com.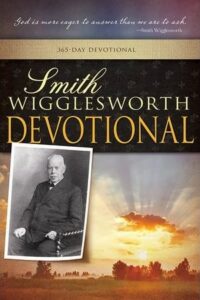 Smith Wigglesworth Devotional: 365 Day Devotional
By Whitaker House
Smith Wigglesworth was a man who took God at his word, and God used his faith as a model for others. Explore these daily truths from Scripture and the writings of the Apostle of Faith, and you'll quench your spiritual thirst, conquer defeating fears, be an effective soul winner, and see impossibilities turn into realities. 558 pages.
More Daily Devotions for October 17
Streams in the Desert by Mrs. Charles E. Cowman
Morning & Evening by Charles Spurgeon