How to Read the Bible in a Year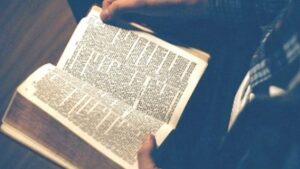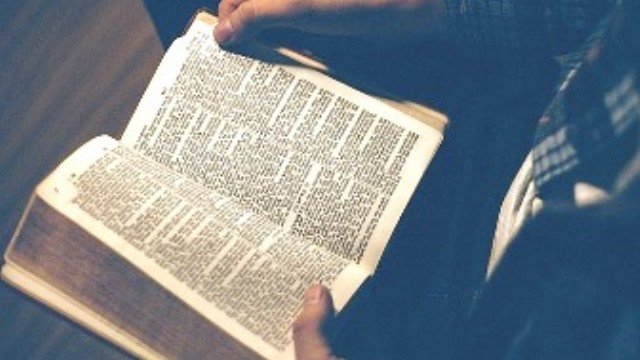 The new year will begin soon. We've been providing Daily Devotions for this past year, and now have a new challenge for you. Have you ever read through the Bible in one year? A lot of people will start, but unfortunately many of them will not finish. We would like to suggest several ways you can read the Bible in a year. See if one of these will work for you.
How to Read the Bible in a Year
---
#1 Use a One Year Bible
One Year Bibles, sometimes called Daily Bibles, divide the full text of the Bible into 365 daily portions. Often there are readings from the Old Testament, the New Testament, and Psalms and Proverbs. Over the course of one year, you will have read through the entire Bible. This is from The One Year Bible NIV (other versions are similar):
The One Year Bible is divided into daily readings. For each day there is a portion of the Old Testament, the New Testament, Psalms, and Proverbs. The four separate daily readings are grouped on consecutive pages, giving freshness and diversity to each day's reading. This also makes it easy to use The One Year Bible in a variety of ways.
Using a One Year Bible, you could read the entire day's portion all at once or divide up the reading so that you spend some time in the morning and some in the evening. One day's readings generally covers about 3-1/2 to 4 pages.
A few of them are designed for a two-year time frame with smaller portions in both the Old and New Testaments. Some of them have short devotional prayers at the end of each day's portions.
A Chronological One Year Bible is similar to a regular One Year Bible. Instead of having daily readings from the Old Testament and New Testament, the Chronological Daily Bible arranges the entire Bible into chronological order. This is from the One Year Chronological Bible NLT:
The One Year Chronological Bible has been prepared especially for Bible readers wishing to read through the entire Bible chronologically in one year. Instead of following a Bible reading chart and experiencing the delay of flipping from place to place in the Bible, you will find this text in chronological sequence, arranged for your easy reading, study, and meditation.
Pros
One of the easiest methods for "thru the Bible in a year".
Self-contained and easy to find your place.
Dedicated to daily Bible reading and not study.
Many different versions available
Cons
More difficult to locate specific passages.
---
#2 Use a Bible Reading Plan
If you want to use a regular Bible rather than buying a One Year Bible, you can use a printed copy of a Bible reading plan that takes you through the Scriptures in a year. As you complete each day's reading, check it off. Having a printed one-year Bible reading plan will help you to stay on track.
Using a printed plan allows you to read from almost any Bible you choose. It could be the same Bible that you study from or that you carry to Church. When you use your regular Bible for this purpose, it helps you to remember where on the page you may have seen a particular passage. You may also choose to use a completely different Bible, perhaps a translation that you do not normally read. You may want to use the printed Bible reading plan as a bookmark to hold your place.
One year Bible reading plans can follow a variety of different paths. Some of them may be the same as what you would find in the One Year daily Bibles, giving you the Scripture references each day rather than printing out the entire text. Often they include both Old and New Testament readings along with Psalms and Proverbs. You might find a Bible reading plan that goes through the whole Bible in canonical order, or maybe one that is in chronological order.
Sometimes Bibles themselves contain a one year reading plan. You can also find one that does not have the months named, enabling you to begin reading through the Bible in a year on any given month.
Several different one-year Bible reading plans can be found at the Blue Letter Bible site.
Pros
Great variety of plans available.
Allows you to use almost any Bible.
Can often be started at any time during the year
Cons
A little more difficult to make the commitment and stick to it.
Some plans might jump around more than others.
---
#3 Read a Certain Number of Pages per Day
The pages-per-day method is a very easy method to follow. With this method, you simply take the number of pages of actual Bible text in your Bible, divide by 365, round up, and read that number of pages every day. All you need is a Bible, a day-of-the-year calendar, and a bookmark.
Personally I have used this method several times, and I would probably call it my preferred method. Almost any Bible can be used, because you are just pacing the number of pages read. For example, if you wanted to use a Bible that included Apocryphal or Deuterocanonical books, you just include them in the total number of pages. If you have something like the Chronological Study Bible NKJV (I used this one year) that doesn't have "book" divisions, that is not a problem. Or if you use something that doesn't follow the order of most Christian Bibles, like the Complete Jewish Bible (I used this one as well – the Old Testament is complete but in a different order), again you just take the total number of pages and divide by 365.
Do not be too concerned about the total number of pages. You are going to be reading the same amount of text. Larger font like a Giant Print Bible might require more pages, but it is the same amount of text. A Bible with a lot of study notes might also require more pages, but for your daily reading you aren't reading the notes so it comes out the same.
When I read the Chronological Study Bible NKJV with a total of 1430 pages, I read 4 pages per day (1430/365 = 3.92). Using this plan, though, you could cover any time frame you choose. If you want to read the Bible in two years, just divide the total number of pages by 730 instead. If you want to read it in six months, divide by 180. Or if you are really aggressive, divide by 90 days (or even 30 days!).
Using a One Year Bible or a daily one year Bible reading plan requires a daily commitment. Maybe you cannot do that, or you need to exclude Saturday or Sunday or some other day of the week. If your schedule simply does not allow for daily reading, you can use this calendar method and follow a weekly schedule instead. In the case of the Chronological NKJV, divide the 1430 pages by 52 weeks and read 28 pages per week rather than 4 each day.
Make sure you find a calendar or daily planner that has the days of the year numbered (or the weeks, if that is appropriate). This link can be used to add day numbers to your Google calendar:
https://calendar.google.com/calendar/ical/%23daynum%40group.v.calendar.google.com/public/basic.ics
Pros
Adaptable to any Bible.
Works with any time period.
Cons
Requires day-of-the-year calendar.
Study notes and/or illustrations can be distracting
Easier to fall behind.
---
Read the Bible in a Year
Reading the Bible in one year requires commitment. If you fall behind, don't get discouraged. Just pick up and try again.
Here are a few suggestions for your success:
Try to choose a specific time each day when you will read.
Create an atmosphere where you will not be distracted.
Designate this time just for reading, not for Bible study.
Pray first.
Keep a notebook or pad handy to jot down things to follow up later.