Wigglesworth Devotional for June 19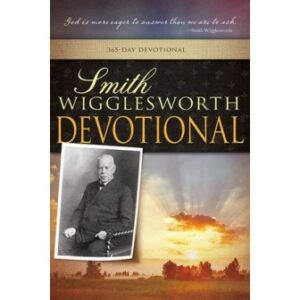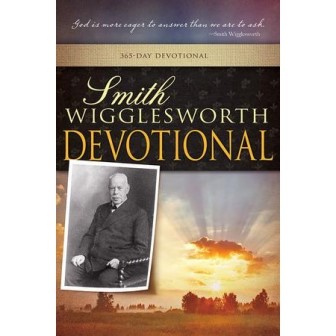 June 19
Sanctified by God
If anyone hears My voice and opens the door, I will come in to him and dine with him, and he with Me.
—Revelation 3:20
Scripture reading: Colossians 1:9-23
Look at the tremendous power of God behind our inheritance. First, we are adopted; then we receive an inheritance; then we are made coheirs with Jesus. God touches our souls, making our whole bodies cry out for the living God.
Do you want God? Do you want fellowship in the Spirit? Do you want to walk with Him? Do you desire communion with Him? Everything else is no good. You want the association with God, and God says, "I will come in to [you] and dine with [you], and [you] with Me." Hallelujah! We can attain spiritual maturity, fullness of Christ, a place where God becomes the perfect Father and the Holy Spirit has a rightful place now as never before.
The Holy Spirit breathes through us, enabling us to say, "You are my Father." Because you have been adopted, "God has sent forth the Spirit of His Son into your hearts, crying out, 'Abba, Father!'" (Gal. 4:6). May God the Holy Spirit grant to us that richness of His pleasure, that unfolding of His will, that consciousness of His smile upon us. There is "no condemnation" (Rom. 8:1). We find that "the law of the Spirit of life" makes us "free from the law of sin and death" (v. 2). Glory!
If we see the truth as clearly as God intends for us to see it, we will all be made so much richer, looking forward to the Blessed One who is coming again. Here we are, face-to-face with the facts. God has shown us different aspects of the Spirit. He has shown us the pavilion of splendor. He has revealed to us the power of the relationship of sonship. He has shown us that those who are God's children bear His image. They actively claim the rights of their adoption. They speak, and it is done. They bind the things that are loose, and loose the things that are bound (Matt. 16:19). And the perfection of sonship is so evident that more and more people are becoming children of God.
Do you believe it? Let us see you act it. Beloved, God the Holy Spirit has a perfect plan to make us a movement. There is a difference between a movement and a monument. A movement is something that is always active. A monument is something that is erected on a corner and neither speaks nor moves, but there is a tremendous lot of humbug and nonsense to get it in place. It is silent and does nothing. A movement is where God comes into the very being of a person, making him active for God. He is God's property, God's mouthpiece, God's eyes, and God's hands. God will "sanctify you completely" (1 Thess. 5:23).
The sanctification of the eyes, the hands, the mouth, the ears — to be so controlled by the Spirit who lives within us — is a wonderful place for God to bring us to. "Beloved, now we are children of God; and it has not yet been revealed what we shall be" (1 John 3:1–2). What a great thought: to be heirs, "joint heirs with Christ" (Rom. 8:17); to receive revelations and kindnesses from God; to have God dwell within man. The believer is filled, moved, and intensified until he takes wing. It would not take a trumpet to rouse him, for he is already on the wing, and he will land very soon. He would hear God's voice no matter how much noise surrounded him.
Everything that is going to help you, you have to make yours. He has stored it up already. You don't need a stepladder to get to it. It is ready to be handed to you when you become joined with Him. Beloved, it is impossible in our finite condition to estimate the lovingkindness or the measureless mind of God. When we come into like-mindedness with the Word, instead of looking at the Word, we begin to see what God has for us in the Word. Our prayer will be,
Me with a quenchless thirst inspire,
A longing, infinite desire
Fill my craving heart.
Less than Thyself You do not give,
Thy might within me now to live.
Come, all Thou hast.
God, please come and make it impossible for me to ever be satisfied but to always have an unquenchable desire for You, the living God. Then I will not be overtaken. Then I will be ready. Then I will have shining eyes, filled with delight as they look at the Master.
Thought for today: Will you shiver like someone hesitating on the edge of a pool? Or will you take a plunge into omnipotence and find the waters are not as cold as people told you?
Excerpted from Smith Wigglesworth Devotional by Smith Wigglesworth, © 1999 by Whitaker House. Published by Whitaker House, New Kensington, PA. Used with permission. All rights reserved. www.whitakerhouse.com.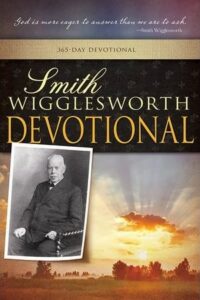 Smith Wigglesworth Devotional: 365 Day Devotional
By Whitaker House
Smith Wigglesworth was a man who took God at his word, and God used his faith as a model for others. Explore these daily truths from Scripture and the writings of the Apostle of Faith, and you'll quench your spiritual thirst, conquer defeating fears, be an effective soul winner, and see impossibilities turn into realities. 558 pages.
More Daily Devotions for June 19
Streams in the Desert by Mrs. Charles E. Cowman
Morning & Evening by Charles Spurgeon