Streams in the Desert (Cowman) April 25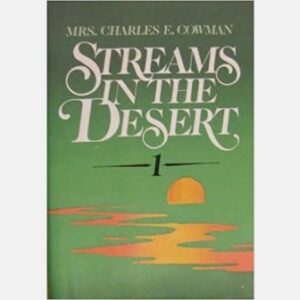 April 25
And there was Mary Magdalene and the other Mary, sitting over against the sepulcher.
Matthew 27:61
How strangely stupid is grief. It neither learns nor knows nor wishes to learn or know. When the sorrowing sisters sat over against the door of God's sepulcher, did they see the two thousand years that have passed triumphing away? Did they see any thing but this: "Our Christ is gone!"
Your Christ and my Christ came from their loss; Myriad mourning hearts have had resurrection in the midst of their grief; and yet the sorrowing watchers looked at the seed-form of this result, and saw nothing. What they regarded as the end of life was the very preparation for coronation; for Christ was silent that He might live again in tenfold power.
They saw it not. They mourned, they wept, and went away, and came again, driven by their hearts to the sepulcher. Still it was a sepulcher, unprophetic, voiceless, lusterless.
So with us. Every man sits over against the sepulcher in his garden, in the first instance, and says, "This woe is irremediable. I see no benefit in it. I will take no comfort in it." And yet, right in our deepest and worst mishaps, often, our Christ is lying, waiting for resurrection.
Where our death seems to be, there our Savior is. Where the end of hope is, there is the brightest beginning of fruition. Where the darkness is thickest, there the bright beaming light that never is set is about to emerge. When the whole experience is consummated, then we find that a garden is not disfigured by a sepulcher. Our joys are made better if there be sorrow in the midst of them. And our sorrows are made bright by the joys that God has planted around about them. The flowers may not be pleasing to us, they may not be such as we are fond of plucking, but they are heart-flowers, love, hope, faith, joy, peace– these are flowers which are planted around about every grave that is sunk in the Christian heart.
'Twas by a path of sorrows drear
Christ entered into rest;
And shall I look for roses here,
Or think that earth is blessed?
Heaven's whitest lilies blow
From earth's sharp crown of woe.
Who here his cross can meekly bear,
Shall wear the kingly purple there.
Cowman Streams In The Desert April 25