Wigglesworth Devotional for May 8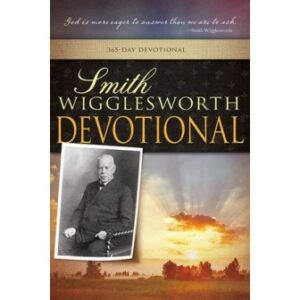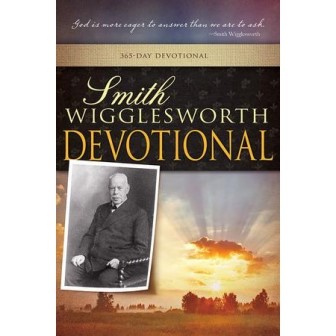 May 8
Rejoice in Being Purified
That the genuineness of your faith, being much more precious than gold that perishes, though it is tested by fire, may be found to praise, honor, and glory at the revelation of Jesus Christ.
—1 Peter 1:7
Scripture reading: 2 Corinthians 4:7-5:9
You have no idea what God will mean to you in trials and temptations — it is purification of the Spirit. Gold perishes, but faith never perishes; it is more precious than gold, though it may be tried with fire. I went into a place one day, and a gentleman said to me, "Would you like to see purification of gold this morning?" I replied, "Yes." He got some gold and put it in a crucible and put a blast of heat on it. First, it became bloodred, and then it changed and changed. Then this man took an instrument and passed it over the gold, drawing something off that was foreign to the gold. He did this several times until every part was taken away. "Look," he said, and there we both saw our faces in the gold. It was wonderful.
Dear believer, the trial of your faith is much more precious than gold that perishes. When God purifies you through trials, misunderstandings, persecution, and suffering because you are wrongfully judged, Jesus has given you the keynote: rejoice in that day. He is cleaning away all the dross from your life, and every evil power, until He sees His face right in the life, until He sees His face right in your life.
"Always carrying about in the body the dying of the Lord Jesus, that the life of Jesus also may be manifested in our body" (2 Cor. 4:10). This process may not seem to any of us to be very joyous, because it is not acceptable to the flesh, but I have told you already that your flesh is against the Spirit. Your flesh and all your human powers have to be perfectly submitted to the mighty power of God inwardly, to express and manifest His glory outwardly. But you must be willing for the process and say "Amen" to God. It may be very hard, but God will help you.
It is lovely to know that in the chastening times, in the times of misunderstanding and hard tests when you are in the right and are treated as though you were in the wrong, God is meeting you and blessing you. People say it is the Devil. Never mind, let the fire burn; it will do you good. Don't begin complaining, but endure the situation joyfully. It is so sweet to understand that "love suffers long and is kind" (1 Cor. 13:4). How lovely to get to a place where you think no evil, you are not easily provoked, and you can bear all things and endure all things! Praise the Lord. Oh, the glory of it, the joy of it!
I understand what it means to jump for joy. I could jump for joy because of the Lord.
I know the Lord, I know the Lord,
I know the Lord has laid His hand on me.
"Whom having not seen you love. Though now you do not see Him, yet believing, you rejoice with joy inexpressible and full of glory" (1 Pet. 1:8). We love our Lord Jesus Christ, whom we have not seen. There is no voice so gentle, so soft, so full of tenderness to me. There is no voice like His, and there is no touch like His. Is it possible to love the One we have not seen? God will make it possible to all. "Though now you do not see Him, yet believing, you rejoice with joy inexpressible and full of glory."
Thought for today: Beloved, as you are tested in the fire, the Master is purifying everything that cannot bring out His image in you.
Excerpted from Smith Wigglesworth Devotional by Smith Wigglesworth, © 1999 by Whitaker House. Published by Whitaker House, New Kensington, PA. Used with permission. All rights reserved. www.whitakerhouse.com.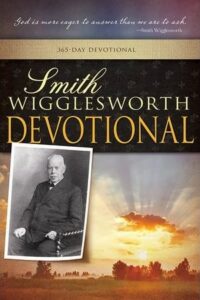 Smith Wigglesworth Devotional: 365 Day Devotional
By Whitaker House
Smith Wigglesworth was a man who took God at his word, and God used his faith as a model for others. Explore these daily truths from Scripture and the writings of the Apostle of Faith, and you'll quench your spiritual thirst, conquer defeating fears, be an effective soul winner, and see impossibilities turn into realities. 558 pages.
More Daily Devotions for May 8
Streams in the Desert by Mrs. Charles E. Cowman
Morning & Evening by Charles Spurgeon