Wigglesworth Devotional January 25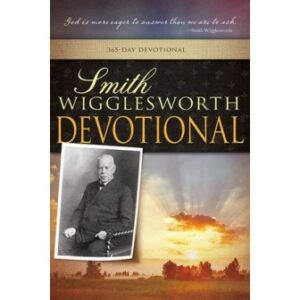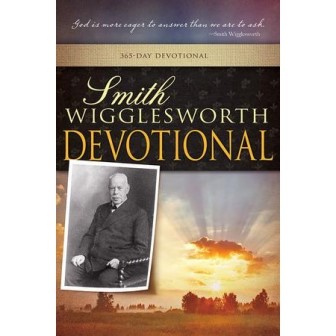 January 25
The Power of the Spirit
And they were all filled with the Holy Spirit.
—Acts 2:4
Scripture reading: Acts 2:1-21
One night I was entrusted with a meeting, and I was guarding my position before God. I wanted approval from the Lord. I saw that God wants men full of the Holy Spirit, with divine ability, filled with life, a flaming fire. In the meeting a young man stood up. He was a pitiful object with a face full of sorrow. I said, "What is it, young man?"
He said he was unable to work, and he could scarcely walk. He said, "I am so helpless. I have tuberculosis and a weak heart, and my body is full of pain."
I said, "I will pray for you." I said to the people, "As I pray for this young man, you look at his face and see it change."
As I prayed, his face changed. I said to him, "Go out, run a mile, and come back to the meeting."
He came back and said, "I can now breathe freely."
The meetings were continuing, and I missed him. After a few days, I saw him again in a meeting. I said, "Young man, tell the people what God has done for you."
"Oh," he said, "I have been able to work and make money."
Praise God, this wonderful stream of salvation never runs dry. You can take a drink; it is close to you. It is a river that is running deep, and there is plenty for all.
In a meeting, a man rose and said, "Will you touch me? I am in a terrible situation. I have a large family, but because of an accident in the pit, I have had no work for two years. I cannot open my hands." I was full of sorrow for this poor man, and something happened that had never happened before. We are in the infancy of this wonderful outpouring of the Holy Spirit, and there is so much more for us. I put out my hand, and before my hands reached his, he was loosed and made perfectly free.
I see that Stephen, full of faith and of power, did great wonders and miracles among the people. This same Holy Spirit can fill you, too, and then right things will be accomplished. God will grant it. God is ready to touch and transform you right now.
Once a woman rose in the meeting asking for prayer. I prayed for her, and she was healed. She cried out, "It is a miracle! It is a miracle! It is a miracle!" That is what God wants to do for us all the time. As surely as we get free in the Holy Spirit, something will happen. Let us pursue the best things, and let God have His right-of-way.
May the Lord open our eyes to see Him and to know that He is deeply interested in all that concerns us. He is "touched with the feeling of our infirmities" (Heb. 4:15 KJV).
All things are naked and open to the eyes of Him with whom we are connected (v. 13). He knows about that asthma. He knows about that rheumatism. He knows about that pain in the back, head, or feet. He wants to loose every captive and to set you free just as He has set me free. I hardly know that I have a body today. I am free from every human ailment, absolutely free. Christ has redeemed us. He has power over all the power of the Enemy and has worked out our great victory. Will you have it? It is yours; it is a perfect redemption.
It is God's desire to make us a new creation, with all the old things passed away and all things within us truly of God; to bring in a new, divine order, a perfect love and an unlimited faith. (See 2 Corinthians 5:17.) Will you accept God's plan for you? Redemption is free. Arise in the activity of faith, and God will heal you as you rise. Only believe, and receive in faith. Stephen, full of faith and of the Holy Spirit, did great signs and wonders (Acts 6:8). May God bless this passage and fill us full of His Holy Spirit. Through the power of the Holy Spirit, may He reveal Christ in us more and more.
The Spirit of God will always reveal the Lord Jesus Christ. Serve Him; love Him; be filled with Him. It is lovely to hear Him as He makes Himself known to us. He is the same yesterday, today, and forever (Heb. 13:8). He is willing to fill us with the Holy Spirit and faith just as He filled Stephen.
Thought for today: We may be very ordinary, but God wants to make us extraordinary in the Holy Spirit.
Excerpted from Smith Wigglesworth Devotional by Smith Wigglesworth, © 1999 by Whitaker House. Published by Whitaker House, New Kensington, PA. Used with permission. All rights reserved. www.whitakerhouse.com.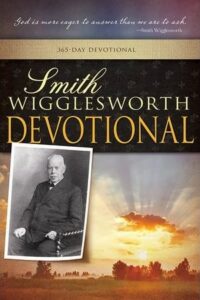 Smith Wigglesworth Devotional: 365 Day Devotional
By Whitaker House
Smith Wigglesworth was a man who took God at his word, and God used his faith as a model for others. Explore these daily truths from Scripture and the writings of the Apostle of Faith, and you'll quench your spiritual thirst, conquer defeating fears, be an effective soul winner, and see impossibilities turn into realities. 558 pages.
More Daily Devotions for January 25
Streams in the Desert by Mrs. Charles E. Cowman
Morning & Evening by Charles Spurgeon