Wigglesworth Devotional February 8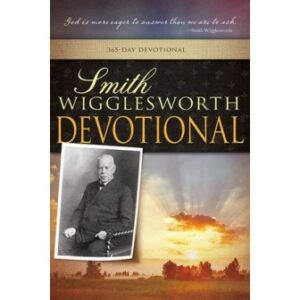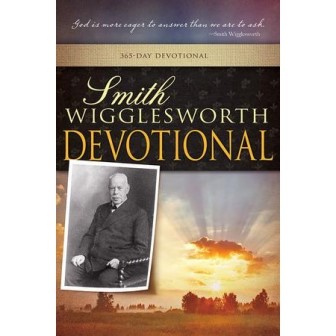 February 8
Divine Authority
Put on the whole armor of God, that you may be able to stand against the wiles of the devil.
—Ephesians 6:11
Scripture reading: Ephesians 6:10-18
I am more and more convinced every day I live that very few who are saved by the grace of God have a right conception of how great their authority is over darkness, demons, death, and every power of the Enemy. It is a real joy when we realize our inheritance.
I was speaking like this one day, and someone said, "I have never heard anything like this before. How many months did it take you to think up that sermon?"
I said, "My brother, God pressed my wife from time to time to get me to preach, and I promised her I would preach. I used to labor hard for a week to think something up, then give out the text and sit down and say, 'I am done.' Oh, brother, I have given up thinking things up. They all come down. And the sermons that come down, stop down, then go back, because the Word of God says His Word will not return to Him void (Isa. 55:11). If you get anything up in your own power, it will not stay up very long; when it goes down, it will take you down with it."
The sons of God are made manifest in this present earth to destroy the power of the Devil. To be saved by the power of God is to be brought from the realm of the ordinary into the extraordinary, from the natural into the divine.
Do you remember the day when the Lord laid His hands on you? You say, "I could not do anything except praise the Lord." Well, that was only the beginning. Where are you today? The divine plan is that you increase until you receive the measureless fullness of God. You do not have to say, "I tell you it was wonderful when I was baptized with the Holy Spirit." If you have to look back to the past to make me know you are baptized, then you are backslidden.
If the beginning was good, it ought to be better day by day, until everybody is fully convinced that you are filled with the might of God in the Spirit, "filled with all the fullness of God" (Eph. 3:19). "Do not be drunk with wine, in which is dissipation; but be filled with the Spirit" (Eph. 5:18). I don't want anything other than being full and fuller and fuller, until I am overflowing like a great big vat. Do you realize that if you have been created anew and born again by the Word of God that there is within you the word of power and the same light and life as the Son of God Himself had?
God wants to flow through you with measureless power of divine utterance and grace until your whole body is a flame of fire. So many people have been baptized with the Holy Spirit; there was a movement, but they have become monuments, and you cannot move them. God, wake us out of sleep lest we should become indifferent to the glorious truth and the breath of Your almighty power. We must be the light and salt of the earth (Matt. 5:13–14), with the whole armor of God upon us (Eph. 6:11). It would be a serious thing if the enemies were about, and we had to go back and get our shoes. It would be a serious thing if we had on no breastplate.
How can we be furnished with the armor? Take it by faith. Jump in, stop in, and never come out, for this is a baptism to be lost in, where you only know one thing and that is the desire of God at all times. The baptism in the Spirit should be an ever-increasing endowment of power, an ever-increasing enlargement of grace. Oh, Father, grant us a real look into the glorious liberty You have designed for the children of God, who are delivered from this present world, separated, sanctified, and made suitable for Your use, whom You have designed to be filled with all Your fullness.
Thought for today: God intends each soul in Pentecost to be a live wire — not a monument, but a movement.
Excerpted from Smith Wigglesworth Devotional by Smith Wigglesworth, © 1999 by Whitaker House. Published by Whitaker House, New Kensington, PA. Used with permission. All rights reserved. www.whitakerhouse.com.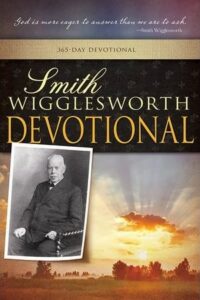 Smith Wigglesworth Devotional: 365 Day Devotional
By Whitaker House
Smith Wigglesworth was a man who took God at his word, and God used his faith as a model for others. Explore these daily truths from Scripture and the writings of the Apostle of Faith, and you'll quench your spiritual thirst, conquer defeating fears, be an effective soul winner, and see impossibilities turn into realities. 558 pages.
More Daily Devotions for February 8
Streams in the Desert by Mrs. Charles E. Cowman
Morning & Evening by Charles Spurgeon