Wigglesworth Devotional February 3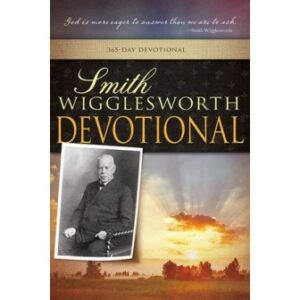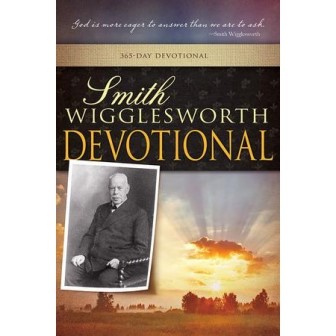 February 3
A Living Faith
Whatever things you ask when you pray, believe that you receive them, and you will have them.
—Mark 11:24
Scripture reading: Matthew 17:14-21
What will it be like when we get rid of this body of flesh? In the meantime, God means for us to put on the whole armor of God (Eph. 6:11) while we are here. He wants us to be covered with the covering of His Spirit and to grow in grace and the knowledge of God (2 Pet. 3:18).
Oh, what God has laid up for us, and what we may receive through the name of Jesus! Oh, the value of the name, the power of the name; the very name of Jesus brings help from heaven and can bind evil powers and "subdue all things to Himself" (Phil 3:21). Thank God for victory through our Lord Jesus Christ.
For the sake of saving us, Jesus "endured the cross, despising the shame" (Heb. 12:2). How beautiful it is to say with our whole will, "I will be obedient to God." He is lovely; He is beautiful. I do not remember Him ever denying me anything when I have come to Him; He has never turned me away empty. He is such a wonderful Savior, such a Friend that we can depend upon with assurance, rest, and complete confidence. He can roll away every burden.
Think of Him as the exhaustless Savior, the everlasting Friend, One who knows all things, One who is able to help and deliver us. When we have such a Source as this, we can stretch out our hands and take all that we need from Him. We may think we have faith in God, but we must not doubt in our hearts. Faith is an inward operation of the divine power that dwells in the contrite heart and can lay hold of things not seen. Faith is a divine act; faith is God in the soul. God operates by His Son and transforms the natural into the supernatural.
Faith is active, never dormant. Faith lays hold; faith is the hand of God; faith is the power of God. Faith never fears; faith lives amid the greatest conflict; faith moves even things that cannot be moved. God fills us with His divine power, and sin is dethroned. "The just shall live by faith" (Rom. 1:17). You cannot live by faith
until you are just and righteous. You cannot live by faith if you are unholy or dishonest.
In order to understand His fullness, we must be filled with the Holy Spirit. God has a measure for us that cannot be measured. When you are in this relationship, sin is dethroned, but you cannot purify yourself. It is by the blood of Jesus Christ, God's Son, that you are cleansed from all sin. We are His life; we are members of
His body. The Spirit is in us, and there is no way to abide in the secret place of the Lord except by holiness.
Be filled with the Word of God. Listen, those of you who have stiff knees and stiff arms today, you can get a tonic by the Word of God that will loosen your joints and will divide even your joints and marrow (Heb. 4:12).
One of the greatest things in the Word of God is that it discerns the thoughts and intentions of the heart. Oh, that you may allow the Word of God to have perfect victory in your bodies so that they may be tingling through and through with God's divine power! Divine life does not belong to this world but to the kingdom of
heaven, and the kingdom of heaven is within you (Luke 17:21).
God wants to purify our minds until we can bear all things, believe all things, hope all things, and endure all things (1 Cor. 13:7). God dwells in you, but you cannot have this divine power until you live and walk in the Holy Spirit, until the power of the new life is greater than the old life.
God wants us to move mountains. Sometimes things appear as though they cannot be moved, but you can believe in your heart and stand on the Word of God, and God's Word will never be defeated. First, believe that you get them, and then you will have them. That is the difficulty with people. They say, "Well, if I could
feel I had it, I would know I had it." But you must believe it, and then the feeling will come. You must believe it because of the Word of God.
Thought for today: Anything that appears to be like a mountain can be moved: the mountains of difficulty, the mountains of perplexity, the mountains of depression or depravity—things that have bound you for years.
Excerpted from Smith Wigglesworth Devotional by Smith Wigglesworth, © 1999 by Whitaker House. Published by Whitaker House, New Kensington, PA. Used with permission. All rights reserved. www.whitakerhouse.com.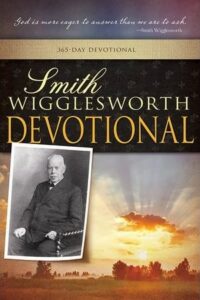 Smith Wigglesworth Devotional: 365 Day Devotional
By Whitaker House
Smith Wigglesworth was a man who took God at his word, and God used his faith as a model for others. Explore these daily truths from Scripture and the writings of the Apostle of Faith, and you'll quench your spiritual thirst, conquer defeating fears, be an effective soul winner, and see impossibilities turn into realities. 558 pages.
More Daily Devotions for February 3
Streams in the Desert by Mrs. Charles E. Cowman
Morning & Evening by Charles Spurgeon