Wigglesworth Devotional February 13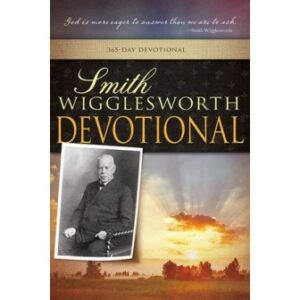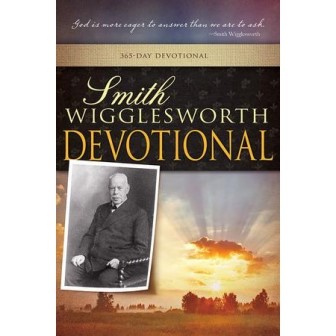 February 13
No Defeat with God
This is the victory that has overcome the world; our faith.
—1 John 5:4
Scripture reading: Romans 10:4-17
I was called to Halifax, England, to pray for a lady missionary. I found that it was an urgent call. I could see there was an absence of faith, and I could see there was death.
I said to the woman, "How are you?"
In a very weak tone of voice she said, "I have faith."
"Faith? Why are you dying? Brother Walshaw, is she dying?"
"Yes."
To a friend standing by, "Is she dying?"
"Yes."
Now I believe there is something in a heart that is against defeat, and this is the faith that God has given to us. I said to her, "In the name of Jesus, now believe, and you'll live." She said, "I believe," and God sent life from her head to her feet. They dressed her, and she lived.
The Bible says, "Have faith" (Mark 11:22). It isn't just saying you have faith. It is believing in your heart. It is grasping the promises of the eternal God. "This is the victory that has overcome the world; our faith." He who believes overcomes the world. "Faith comes by hearing, and hearing by the word of God" (Rom. 10:17). He who believes in his heart — can you imagine anything easier than that? He who believes in his heart! No one who believes in his heart can live according to the world. He dies to everything worldly. He who loves the world is not of God. You can measure the whole thing and examine yourself to see if you have faith. Faith enables you to lay hold of what is and to get it out of the way for God to bring in something that is not.
Just before I left for home I was in Norway. A woman wrote to me from England saying she had been operated on for cancer three years before but that it was now coming back. She was living in constant dread of the whole thing, since the operation was so painful. She asked if it would it possible to see me when I returned to England. I wrote that I would be passing through London on the twentieth of June. If she would like to meet me at the hotel, I would pray for her.
When I met this woman, I saw that she was in great pain, and I have great sympathy for people who have tried to get relief and have failed. I saw how distressed she was. She came to me in a mournful spirit, and her whole face was downcast. I said to her, "There are two things that are going to happen today. One is that you are to know that you are saved."
"Oh, if I could only know I was saved," she said.
"There is another thing. You have to go out of this hotel without a pain, without a trace of the cancer."
Then I began with the Word — oh, this wonderful Word! We do not have to go up to bring Him down; nor do we have to go down to bring Him up (Rom. 10:6–7). "'The word is near you, in your mouth and in your heart' (that is, the word of faith which we preach)" (v. 8). I said, "Believe that He took your sins when He died on the cross. Believe that when He was buried, it was for you. Believe that when He arose, it was for you. And now He is sitting at God's right hand for you. If you can believe in your heart and confess with your mouth, you will be saved."
She looked at me saying, "Oh, it is going all through my body. I know I am saved now. If He comes today, I'll go to heaven. How I have dreaded the thought of His coming all my life! But if He comes today, I know I will be ready."
The first thing was finished. Now for the second. I laid my hands upon her in the name of Jesus, believing in my heart that I could say what I wanted and it would be done. I said, "In the name of Jesus, I cast this out."
She jumped up. "Two things have happened," she said. "I am saved, and now the cancer is gone."
Faith will stand amid the wrecks of time,
Faith unto eternal glories climb;
Only count the promise true,
And the Lord will stand by you.
Faith will win the victory every time!
Thought for today: Faith is God in the human vessel.
Excerpted from Smith Wigglesworth Devotional by Smith Wigglesworth, © 1999 by Whitaker House. Published by Whitaker House, New Kensington, PA. Used with permission. All rights reserved. www.whitakerhouse.com.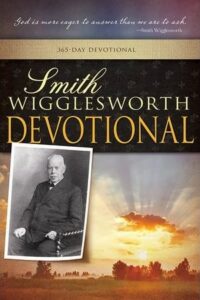 Smith Wigglesworth Devotional: 365 Day Devotional
By Whitaker House
Smith Wigglesworth was a man who took God at his word, and God used his faith as a model for others. Explore these daily truths from Scripture and the writings of the Apostle of Faith, and you'll quench your spiritual thirst, conquer defeating fears, be an effective soul winner, and see impossibilities turn into realities. 558 pages.
More Daily Devotions for February 13
Streams in the Desert by Mrs. Charles E. Cowman
Morning & Evening by Charles Spurgeon